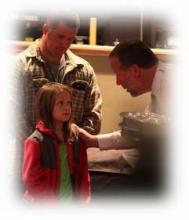 Immanuel is a vibrant, caring, family community and we would love to have you visit our church and/or school! We strive to be family-friendly in all that we do and we believe in the importance of sharing the good news of Jesus Christ with people of all ages. We also believe that, as broken people living in a broken world, we can provide encouragement and assistance to one another by being in community together. We look forward to seeing you at Immanuel!
How do I get to Immanuel? We feel blessed by the opportunity to be part of the Loveland community serving from our church and school building on 25 acres in north Loveland. We are located on the east side of Hiway 287, between 45th and 50th Streets. Driving directions
What do I wear? The 'dress code' at Immanuel is whatever you feel comfortable wearing; no matter your clothing style you won't feel out of place. It's not unusual to have someone wearing jeans sitting next to someone wearing a tie, or someone in flip flops next to someone in high heels.
Where do I go once I'm there? When you arrive at Immanuel you will find the main doors on the east side of the building. The main doors lead into the atrium/lobby which provides plenty of space for greeting new friends or grabbing a cup of coffee. Worship is held in the sanctuary - straight ahead on the right side, and restrooms are located at the far (West) end of the atrium.
During a portion of the summer months, the 9:30am Outdoor Worship service takes place on the west lawn which you may access by walking through the atrium or from either parking lot. You are invtied to bring your camping/lawn chair or you may use a folding chair provided.
What time are the worship services? During the school year, the Classic Grace (traditional) worship service begins at 8am and the Contemporary Joy worship service at 10:30am. During the summer (Memorial Day weekend through Labor Day weekend), the Contemporary Joy worship services moves an hour earlier to 9:30am.
Where should my kids go during the worship service? Children, as valued members of our faith community, are welcome at all worship services at Immanuel. When squirms and wiggles become too much, the atrium allows children to move while parents may still hear and see the worship service. There is also a nursery provided for the youngest children during the 9:30am Education Hour and the 10:30am worship service.
What else should I know? During worship services, there will be the opportunity to greet others seated near you. Typically the morning's message from the Pastor also includes opportunity to talk over a question or two with your neighbors. Although you are encouraged to introduce yourself and participate in the conversation, it is always optional to do so. You are welcome just as you are; please participate at whatever level you are comfortable.
If you are in need of a Bible for your personal use, please know that you are welcome to take one of the black Bibles from the sanctuary and keep it as your own. You are also welcome to take one of these Bibles and give it to someone you know who is in need of one.
If you are interested in making Immanuel your church home, Pastor Glen would be happy to speak to you about how to become a member at Immanuel. You may call him (667-4506) or email him at any time for more information. In the meantime, you do not need to be a member of Immanuel to participate in all activities or events taking place on and off our campus.