As A Family Place, Immanuel places a high value on families attending worship together. Children of all ages are welcome to all of our worship services. When babies need to be walked or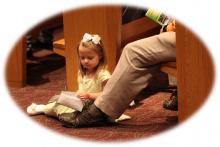 younger children need a place outside of the  sanctuary for a time, the atrium provides the perfect location for this: glass doors and windows to the sanctuary as well as speakers in the atrium itself allow parents to still participate in the worship service. 
As children enter the sanctuary for worship, they can pick up a children's bulletin from one of the ushers. During the service they will be invited to join other children for the Children's Message. Beginning in kindergarten, students may serve as basket holders during communion, and students in second through fifth grade are invited to serve as acolytes.
Children are also invited to participate in worship through ringing in one of our children's handbell choirs or by participating in a children's choir. These groups meet during our Midweek Ministry on Wednesday evenings to prepare to participate in Sunday morning worship.