During the school year, Immanuel offers two worship services on Sunday mornings:
Classic Grace Worship at 8am: Classic Grace is a traditional form of worship using sung liturgy, hymnody and other classical styles of music.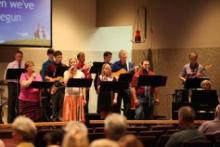 Contemporary Joy Worship at 10:30am. Contemporary Joy worship, while using the same overall liturgical structure, is contemporary in both style and music with a less formal atmosphere.
The Lord's Supper is offered each week at both services. 
Our Summer Worship Schedule (Memorial Day Weekend through Labor Day Weekend)
Classic Grace Worship at 8am
Contemporary Joy Worship moves an hour earlier to 9:30am
Contemporary Joy worship remains in the sanctuary through the month of June and moves outdoors - on the west side of the building, under the pergola - beginning the first Sunday in July. You're invited to bring a comfortable chair as well as anything else that will make Outdoor Worship comfortable for you.
Children, as valued members of our faith community, are welcome at all worship services at Immanuel.
For more information on worship at Immanuel, please click here or call the office at 970-667-4506.